Created for Greatist by the experts at Healthline. Read more
If you buy something through a link on this page, we may earn a small commission. How this works.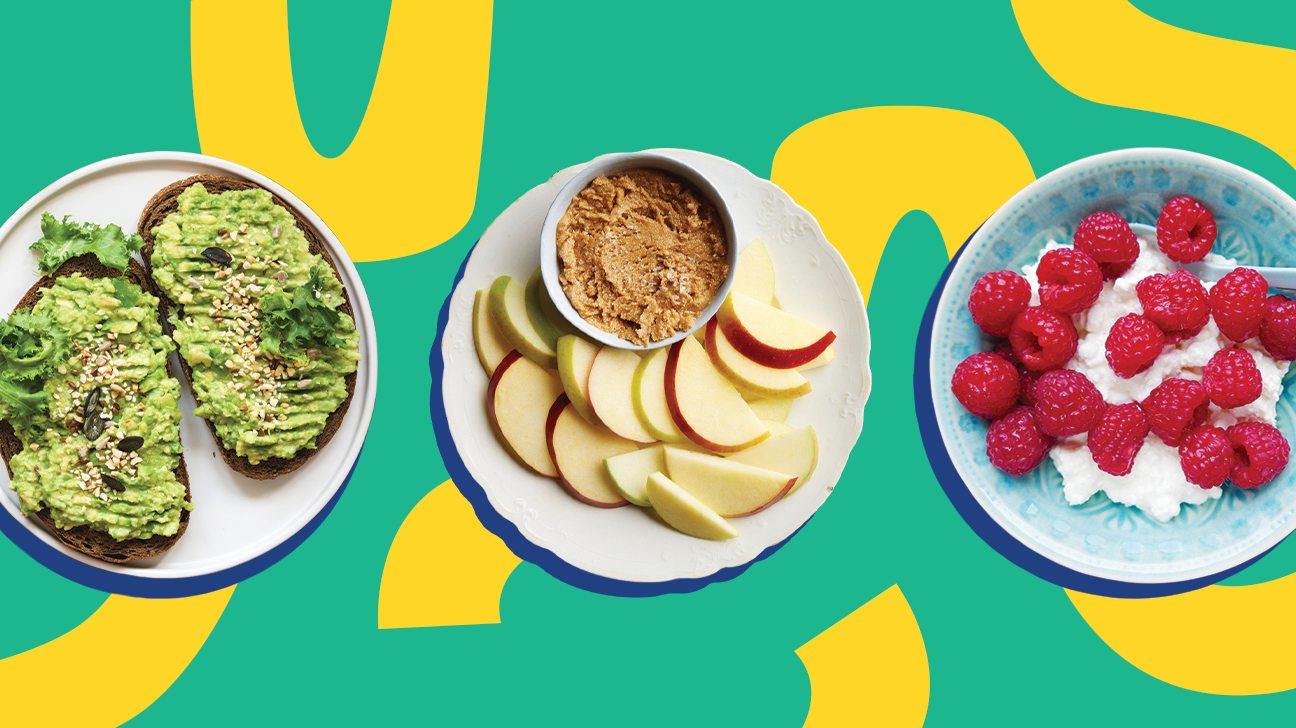 It's 3 p.m. and your work emails are quickly escalating from charming sentences with smiley face emojis to writing the entire email body in the subject line — in all caps. The hunger monster has arrived, loud and proud, and you (and all your coworkers) know it. But what to eat that won't ruin your whole day?
Need a healthy option from your local grocery store? Check.
Want to batch prep some balanced bites? Check.
Looking for something vegan or high in protein for your unique dietary needs? Double check.
What about something you can share with your toddlers or kids? Mama, we got that covered too.
We've compiled over 50 dietitian-approved snacks to help you satisfy those cravings and fuel your busy days. 😄
Apple and almond butter. What's not to love about this OG sweet and salty snack? Sweet, juicy apple slices and salty, creamy almond butter not only satisfy practically every craving, but this power combo also delivers fiber, protein, and healthy fats.
Greek yogurt and berries. With 10 grams of protein per 1/2 cup, Greek yogurt is an ideal snack to keep the hunger beast at bay. And when paired with a handful of fiber-rich berries for natural sweetness, you know you'll be good until lunch.
Hummus and pita. Hummus is a classic snack for a reason — it's got fiber, protein, and good fats, not to mention it's plant based and naturally gluten free. Pair it up with some veggies or pita for a solid morning or afternoon nosh.
Chia pudding. For you sweet tooth snackers, chia pudding is a nutritious way to prep for a busy day while still bringing those dessert vibes. Just mix 3 tablespoons of chia seeds with 1 cup of the milk of your choice and let it sit in the fridge overnight. Then sweeten or season to taste, and dive in.
Hard-boiled eggs. With 7 grams of powerful protein in a perfect portable shell, hard-boiled eggs are a satisfying classic that'll keep you full and focused.
Edamame. Edamame shouldn't just be for sushi night. It's packed with plant based protein, and preparing it is as easy as running a little warm water over frozen pods.
Yogurt and fruit smoothie. Smoothies don't have to be complicated. We suggest including a source of protein (yogurt, cottage cheese, or protein powder), a serving of fruit (banana, berries, peaches), a handful of greens (baby spinach works well), and the healthy fat of your choice (nut butter, avocado, hemp hearts or chia). Blend until smooth and get sipping.
Avocado toast. Who doesn't like the satiating combination of whole-grain toast with healthy fat-rich avo? Top it off with a poached egg to turn snack time into a hearty meal!
Celery, peanut butter, and raisins. Remember ants on a log? Bring it back to basics with this crunchy, savory, sweet snack loaded with the satisfying combination of fiber, protein, and fat.
High fiber crackers and cheese. Whether you're a hard cheddar fan or into something creamy and spreadable like chèvre, pairing the staying power of calcium-rich cheese with a high fiber crunchy cracker can help kill that afternoon energy dip STAT.
Skotidakis Tzatziki dip and veggies. Made with non-fat Greek yogurt and packed with fresh cucumber and garlic, this 50 calorie per serving dip is a tasty way to sneak in your 5 to 10 servings of daily veg.
Two-ingredient strawberry popcorn. Popcorn is not only super fun to eat, but is a surprisingly low calorie snack, with just 30 calories per popped cup! Add a little sprinkling of freeze-dried berries and you've got a naturally sweet and colorful treat without the need for added sugar or salt.
Annie Chun's organic seaweed snacks. Craving something savory and crunchy without the calories? These crispy roasted seaweed sheets have just 30 calories per pack and are a tasty alternative to chips.
Baked kale chips. We love chips, but hate the preservatives, fat, and sodium in every bite. These oil-free kale chips are seasoned with nutritional yeast, lemon, and cayenne — plus they offer a wicked crunch for those days where you know you can't eat just one.
Shrimp cocktail. Raw bar doesn't have to be saved for weddings or cocktail parties. One medium shrimp has just 7 calories, while a teaspoon of cocktail sauce has only 5, meaning you can have a dozen with tangy dip for under 100 calories!
Trader Joe's Tomato and Basil Hummus with baby carrots and celery. Hummus that makes celery taste like pizza but only has 35 calories per 2 tablespoons? Yes please! 🙋‍♀️🙋‍♂️
Trader Joes Banana Almond Butter Protein Smoothie. Love that sweet and salty combo of a banana smeared with nut butter, but need something super portable for a post workout nosh? This drinkable snack packs a solid 14 grams of protein and 5 grams of fiber in each 320 calorie bottle.
365 Striders Snack trail mix. While most trail mixes are loaded with added sugar and salt, this version from Whole Foods provides a satisfying combination of nuts and sweet raisins without any additives.
365 Greek Yogurt Strawberry Frozen Bars. Sometimes you need a lil' something sweet to finish off the day. This 80 calorie Froyo bar is sweet, creamy, and packs an impressive 4 grams of protein thanks to the addition of real low fat Greek yogurt.
Kirkland Signature protein bars. With 15 grams of fiber, 21 grams of protein, and only 3 to 4 grams of net carbs per 190 calories, these gluten free bars are a perfect post-workout snack!
Wholly Guacamole 100 Calorie Mini Cup and veggies. Vegan, paleo, and keto-friendly, we all love guac but we hate dealing with tricky avocados. Problem solved! These 100 calorie cups have no preservatives, are made with real hand-scooped Hass avos, and we don't have to wait for the perfect moment of ripeness to dive in.
Spicy TUNO with Sriracha on whole-grain crackers. This non-GMO, gluten free fish alternative has the flaky texture of real tuna plus all of its protein and omega-3 rich benefits, but packed into a more sustainable plant based product. Pile it onto your go-to cracker for a satisfying afternoon snack.
Chocolate hazelnut granola bars. Healthy bars that taste like Nutella? It's a vegan miracle! Loaded with fiber from whole grains, natural sweetness from ripe banana and dates, and healthy fats from the hazelnuts, hemp hearts, and almond butter, these bars are a must.
Munk Pack protein cookie. Peanut butter chocolate chip cookies with 18 grams of plant based protein? Sign us up! These babies are conveniently packaged so they're easy to throw in your bag and contain no gluten, soy, dairy, egg, GMOs, or sugar alcohols.
Spicy watermelon fries. Sweet and spicy and bursting with hydration, consider this the love child of your favorite fruit (watermelon) and favorite food group (fries). You're welcome.
https://greatist.com/health/healthy-snacks